Patient Story - Fixing loose teeth following years of suffering with gum disease
The Challenge
A female patient who attended with loose teeth following years of suffering with gum disease. Her teeth had become very loose and were drifting forward giving an uneven, goofy smile. Both her upper and lower teeth were loose and the thought of the forthcoming loss of all of the teeth was proving a very distressing prospect.
She wanted to have a straight even smile and to be able to chew without pain from the loose teeth. Years of painful gum treatment had also taken it's toll on the patient and she suffered from extremely sensitive and painful teeth.
Before
Patient had issue with loose teeth following years of suffering with gum disease and looked like this: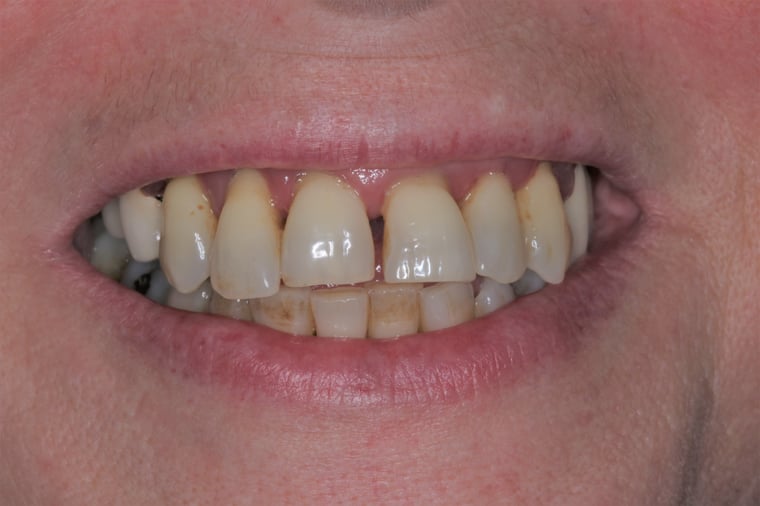 THE SOLUTION
The solution was to remove the loose and painful teeth and provide dental implants to support a Fixed bridge for the ultimate smile and function. The teeth were removed and implants placed at the same visit, thus minimising the amount of surgery required, and avoiding multiple lengthy painful procedures. Before long we were able to provide temporary bridge work on the new implants, eventually progressing to final quality ceramic bridge work, made by our Kent based laboratory.
After
After our work, they looked like this: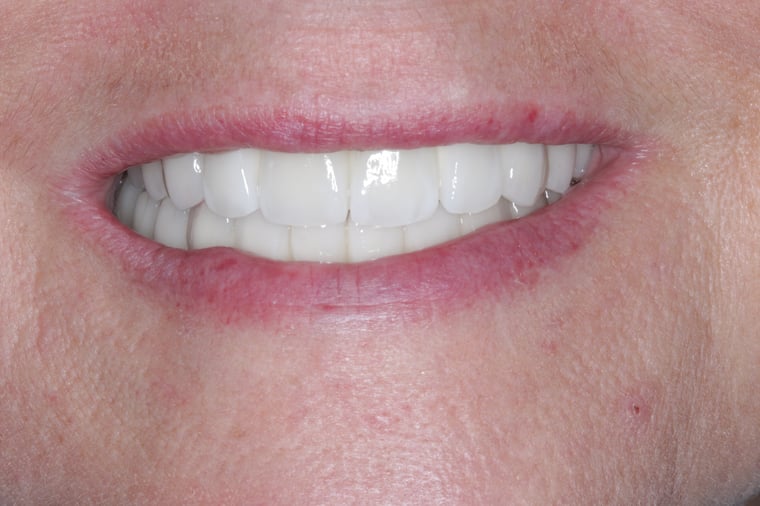 Testimonial:
"The treatment progressed well with no problems. My initial anxiety over the prospect of losing all of
my teeth due to gum disease was overcome by a fabulous final set of upper and lower fixed bridges.
The final teeth have given me pain free chewing with a great smile. Complete confidence in chewing and
smile restored."
Looking for Dental IMplants?
If you'd like to find out more about our dental implant services, why not Book a Free Consultation here.